Spring Cleaning Tips - How to tackle the inside of your home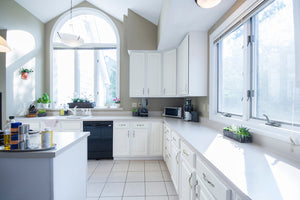 Spring is in the air! The flowers are blooming, birds are chirping, the sun is shining- sometimes! It feels like it's been forever coming this year but soon it will be the days of shorts, t-shirts and BBQs. But first, it's time for some spring cleaning.
Stuck on where to begin? Overwhelmed by how much needs to be done? Here are a few ideas on how to get started on your spring cleaning!
The Kitchen
The shelves:
Next time you're doing the dishes, wipe down all of the cupboards where you store your kitchenware. There's no point having clean dishes if the shelves are dusty!

The microwave:
While it's common sense to wipe up spills as you go, how often do you actually clean your microwave? Wipe down the inside with a warm, damp cloth to remove any food particles that may be harbouring harmful bacteria.

Refrigerator and Freezer:
It's time to check all of the expiration dates on those condiments and get ready of anything that's been in there for a while. Face it, if you haven't eaten it yet, you probably shouldn't. Plus, it could be making you sick!
Not sure what's in that container? Toss it!
Living Room
Upholstery:
Got the vacuum out? Change the extension and tackle your couches and chairs. Lift the cushions up and vacuum all the dirt and crumbs underneath- you might even find a pocketful of change for your efforts!
Curtains:
If possible, take your curtains down and give them a good clean. Handwash delicate fabrics and let air dry. Use Charlie's Soap to get all odours yet! If curtains can't be taken down, you can vacuum them with a long attachment.
Floors:
It's hard to keep floors clean in the winter with all the snow, slush and gravel that gets tracked it. Spring showers mean even more mud and crud! If you have carpets or rugs, rent a steam cleaner and give them a deep clean, and sweep and mop all hard surfaces. Did you know that you can use Charlie's Soap Indoor/Outdoor Surface Cleaner on your floors? Learn how here. 


Bedroom(s):
Mattresses:
Use the upholstery extension and vacuum both the top and bottom of your mattress. Sprinkle some baking soda on top, let sit for 24 hours (if possible) the vacuum up to deodorize the mattress. 
Closet:
Save on space by putting your bulky winter clothing into storage. Under the bed organizers are great as they are out of sight but still accessible in case of a cold summer night
Nightstand:
Hands up if your nightstand is full of clutter! What do you actually use on a daily basis? Are there knickknacks there that just collect dust? Keep things clutter free with a lap, alarm clock and a good book- the rest can get tucked away in a drawer!

Looking for some more tips? Check out last year's blog post on green spring cleaning tips!

Happy Cleaning!
Leave a comment
Comments will be approved before showing up.