Fall Cleanup - How to Clean for Fall Inside and Out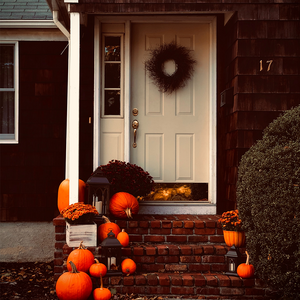 Fall is the perfect time to reset your home from the summer months and prepare for the winter season. Temperatures are still relatively mild to complete any outdoor tasks- plus there shouldn't be any snow on the ground just yet! Are you ready for your fall cleanup?
We've compiled two checklists of fall cleaning to be done, one for outdoors and one for inside. As always, we recommend using eco-friendly products to keep your family and the environment safe. 
Outdoor Cleaning Checklist
Rake or mulch leaves
There's a bit of a debate on whether or not you should leave your leaves on the lawn or rake them up. While a large pile of leaves could potentially smother your lawn, they can also provide nutrients for the soil. If you don't love the look of leaves all over your yard, use them for compost or take them to a yard waste dropoff. If you want to try mulching your leaves, you can run dry ones over with a lawnmower using a rake to spread them evenly throughout your lawn.
Powerwash the siding
Give the sidings of your house a good wash with an eco-friendly cleaner such as Charlie's Soap Indoor/Outdoor cleaner. It's a concentrated formula, so a little goes a long way- use 1 part cleaner to 1 part water.
Clean patio furniture and store
Use a cloth or a sponge, along with an eco-friendly cleaner like Charlie's Soap Indoor/Outdoor Cleaner. Cover furniture with a tarp or store in your garage until spring. 
Clean out the gutters
Rain gutters can get clogged with leaves and other debris and should be cleaned at least twice a year. Doing so will prevent any obstructions in the rain flow, which could cause damage to your home. If you aren't comfortable or able to use a ladder, be sure to hire a professional to do the job.
Have chimneys and flues inspected 
Minimize the risk of a house fire by having your chimneys and flues inspected y a reputable company and cleaned if needed.
Wash windows
Give the exterior glass and frame a good clean and touch up any peeling paint as needed. 
Clean and cover pool
If you are lucky enough to have your own private pool, make sure you properly close it for the winter. Consult with a pool company on the best practices for your pool.
Check caulking and weather stripping on windows and doors
Make sure your doors and windows are shutting properly and sealed tightly. Fix if needed- nobody likes a draft of cold air all winter long!
Clean and organize the garage
Planning on keeping your car snow-free inside the garage this winter? Now's the time to make sure you have space! Utilize rafters to hang bikes, toys and patio furniture. Pack other items in rubber containers so water and critters can't get in.
Indoor Cleaning Checklist
Clean the washer and dryer
Rid your washing machine of odours and gunk with Charlie's Soap detergent. Learn how here. Deep clean the lint trap in your dryer with your vacuum cleaner. 
Wash walls
Give the walls in each room a good wipe down with a damp cloth or sponge.
 Wash windows and screens
Not looking forward to being stuck inside all winter? At least make sure you can see outside. Remove the screens and wash them in the sink with an eco-friendly cleaner. Wipe down the interior of the windows. 
Clean kitchen appliances
Toss expired food from the fridge, remove shelves and disinfect. Wipe down the microwave with a damp cloth. To clean the dishwasher, place a glass measuring cup filled with two cups of white vinegar on the top rack and run a normal cycle without detergent or dishes.
Clean household vents
Keep that vacuum cleaner handy and suck out all of the dust and dirt from under the vent covers.
Launder all bedding
Wash all blankets, sheets and mattress covers with a hypoallergenic, eco-friendly detergent like Charlie's Soap. 
Replace furnace filters
Furnace filters should be replaced regularly, especially if you have furry pets.
Clean carpets
Spot clean stains or rent a cleaner to get your rugs and carpets looking fresh- learn how to use Charlie's Soap for both here. 
Check smoke detectors
Test your smoke detectors and change the batteries or replace the smoke detector as needed.
Clear out the closet and store summer clothes
Take inventory of your closet and donate or sell items you no longer wear. Create space for bulkier winter clothes by storing items you won't use, such as bathing suits and shorts.
Images Courtesy Of:
Featured Image: Erica Marsland Huynh
Rake: utroja0 
Patio furniture: MikesPhotos
Chimney: Derek Torsani 
Pool: Evan Dvorkin 
Garage: Maxim Selyuk 
Washer: GS-Photo
Kitchen: Naomi Hébert
Bedding: Volha Flaxeco 
Carpet: Michal Jarmoluk
Closet: Annie Spratt
Leave a comment
Comments will be approved before showing up.