Charlie's Soap Kitchen & Bath Cleaner Has Arrived!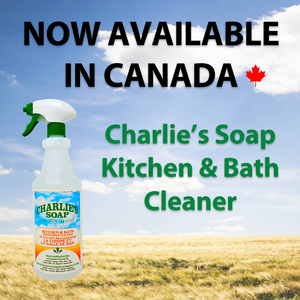 We have another addition to the Charlie's Soap lineup in Canada!
Charlie's Kitchen & Bath Cleaner has arrived! Tough yet gentle, this natural, non-toxic formula is safe to use in your kitchen, bathrooms, laundry room, and more! That's because we don't include unhealthy additives in our cleaners: no dyes, no perfumes, zero abrasives, and no bleach. Just spray on and wipe off; all you need is a cleaning rag. For large or sticky messes, let sit for a few minutes then wipe away. 
MULTI-SURFACE USE – Safely cleans a variety of surfaces and messes including, mildew stains, stovetops, ovens, hardwood floors, carpets, tubs, walls, tile, stonework, toilets and more.

SAFE & EFFECTIVE – Contains no abrasives, lye, phosphates, bleach, dyes, perfume, or fillers. Safe for all washable surfaces. No need to use gloves. 
NON-TOXIC – Gently breaks the bond between grime and your washable household surfaces. 

BIODEGRADABLE – Our environmentally safe cleaner is made with naturally-derived ingredients to tackle all of your daily household chores. 
Order your Kitchen & Bath Cleaner here. 
Leave a comment
Comments will be approved before showing up.